Doctors and Scientists Collaborate for Ebola Prevention
2.8.16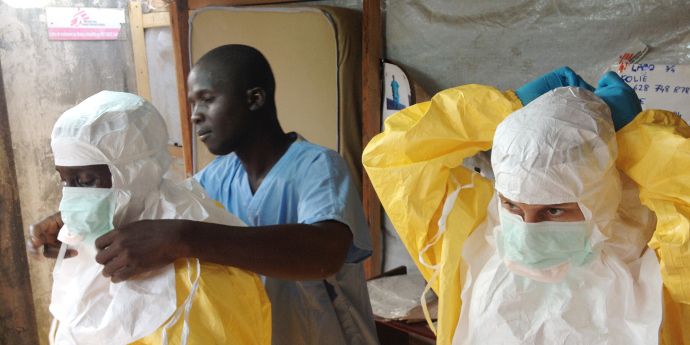 It began in a small way, taking a tiny victim with it. In December 2013, Emile Ouamouno, a two-year-old boy from Meliandou, a remote village in the West African nation of Guinea, experienced a rash of symptoms, including fever, headache, and diarrhea, and then died within days.
The largest Ebola outbreak in history began quietly, and remained that way for a long time. Then it burst into the open – a "Terrifying pathogen" in the words of Dr. Bruce Aylward, the World Health Organization Director-General's Special Representative for the Ebola Response.
Even after this viral hemorrhagic fever was identified as Ebola, its origins remained murky. Some said bush meat, a staple of the West African diet, was the cause. Others, according to a BBC news report, theorized that, at some point in his young life, Emile had come into contact with a diseased fruit bat from the Guinean forest.
Because its victims can be asymptomatic, even when highly contagious, the disease spread, unchecked, as Guineans travelled to the neighboring states of Liberia and Sierra Leone. Ultimately, more than 28,600 people in West Africa were stricken; and at least 11,300 died, according to the Centers for Disease Control.
In August 2014, after the WHO declared the outbreak an international health emergency, the CDC elevated its response to the highest level, sending health care professionals to West Africa. Humanitarian organizations also deployed staff and volunteers. At one point, one NGO — Doctors Without Borders — had almost 4,500 staff in the region.
While research into Ebola is ongoing, no pharmaceuticals or vaccines against it have yet been approved for use. Because it is spread through direct contact with blood, bodily secretions, or organs of infected people, "Traditional public health measures … remain the best bet for containing the epidemic in West Africa," as the New York Times noted in an editorial.
The outbreak — which had threatened to expand into a pandemic — began to subside after basic hygienic measures, such as hand washing, burning patients' clothes and bedding, and spraying burial sites with chlorine, were imposed for Ebola prevention.
A comprehensive personal protective equipment (PPE) program developed for healthcare workers also had a positive effect. The mortality rate of these workers lessened dramatically after the PPE program, which required these workers to wear coveralls and other protective garments, was imposed. Items such as DuPont™ Tyvek® and Tychem® coveralls provided a protective barrier that helped save countless lives.
In December 2015, the USAID selected a Johns Hopkins prototype protective garment — made of DuPont™ Tychem® fabric — as one of the first projects it funded for Ebola prevention. One of these coverall innovations is a rear zipper and a "cocoon-style" removal. It is easier to remove than traditional styles and therefore less likely to spread germs. If and when an Ebola-style epidemic returns, the pathogen will be more easily contained.
Putting an end to the West African Ebola crisis required three things, according to the WHO: "Extraordinary leadership, rapid adaptation and constant innovation." The Public Health Emergency of International Concern (PHEIC) related to Ebola in West Africa was lifted in March 2016. Even so, Dr. Aylward cautions that it is not entirely over. "The epidemic, while contained, is continuing. We're very, very close to zero, but we're not there yet. Getting from here to zero is still a real challenge."