Modern Interior Design Using Corian®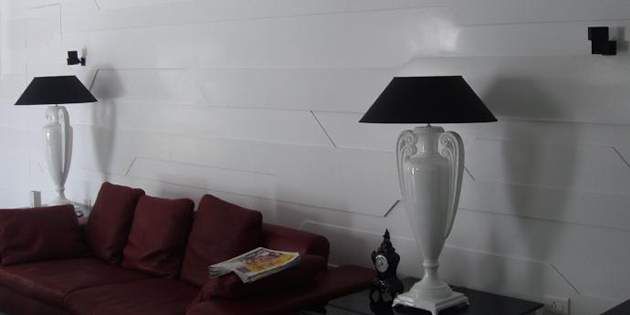 Issue:
Mr. Jagan, son of the late Chief Minister of Andhra Pradesh,
Mr. Y. S. Rajashekhar Reddy, was seeking a modern interior design to create an experience of warmth and simplicity for guests staying in his guesthouse.

Challenge:
The architects and designers of Jagan's guesthouse were on the lookout for a solid-surface material that would not only give them fabulous designs, but also reduce clutter to make the interiors spacious and soothing. They were also seeking a durable solid-surface material that would simplify housekeeping tasks.

Solution:
The designers finally found a perfect match for Jagan's guesthouse in DuPont™ Corian® surfaces. A Glacier White DuPont™ Corian® surface was used as a distinctive wall cladding, as well as for doors, vanities, shutters and hand-rails, to make the lobbies and rooms look spacious and soothing. DuPont™ Corian® was also an ideal solution, as it's easy to maintain, and durable. "Maintenance is very easy, which is very suitable for residential use. It is stain-resistant, which makes housekeeping easy" remembers Mr. Ram, the architect from Rajreeram Associates, Hyderabad. The appearance of a seamless surface enhanced the architectural aesthetics, and provided each guest with a nourishing experience away from the buzz of everyday life.
Benefit:
DuPont™ Corian® solid surface gives designers and interior decorators the ultimate freedom of expression in modern interior design, by combining enduring beauty with valuable functionality. DuPont™ Corian® solid surface is easy to clean, and is NSF/ANSI 51 Certified for food contact. Because Corian® is nonporous; stains do not penetrate the surface, and with proper cleaning, Corian® also resists the growth of mold, mildew, and bacteria. The virtually seamless surface not only adds architectural aesthetics to the designers' vision, but also goes a step further to create a nourishing experience.