DSP Design Associates uses DuPont™ Corian® for Office Space

DuPont Services Center India, Hyderabad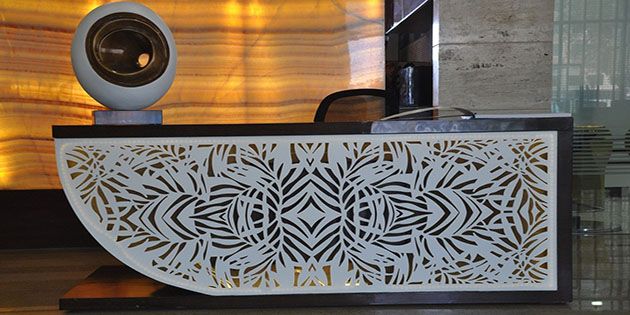 In Office spaces, first impression counts!
Whether it's the reception area or the breakout area, a fresh, clean and welcoming environment can make all the difference. Hence DuPont™ Corian®, with its inherent hygienic properties, practicality and design flexibility, has been the material of choice for designers for over 40 years.
Office spaces nowadays have moved on from dull cubicles to colorful open spaces. Companies need a material which can create vibrant environments fostering positivity and productivity rather than creating a monotonous industrial setup. Acknowledging the demand, DSP Design Associates team has always believed in DuPont™ Corian® as a go-to material for their projects, helping them create lively impressions in the office interiors.
For us every project we do is a unique adventure. We believe that a good workplace design can influence the mood and behavior of the employees and hence increase their productivity, and that's one of the reasons that we designers pay lot of attention in selecting the right materials which can be functional yet creatively liberating.
"The unique properties of DuPont™ Corian® help the designers come up with beautiful interior solutions. For commercial scale projects like Blackrock and Microsoft, we tried to create spaces that are not only clear and light but also durable. DuPont™ Corian® is ideal here: it appears light and is extremely robust at the same time. We are very happy with the material and the authorized fabricators network that DuPont has to offer" …says Sr. Ar. Ashish Dhawan, DSP Designs Gurgaon
Because it is solid all the way through, Corian® can be inlaid or carved to showcase company logos. Also, due to its capability of being a shape-shifter it can be formed into extraordinary flowing expanses of surfaces. Moreover, Corian® solid surface is a non-porous material and when cleaned properly it does not harbor growth of mould or mildew. It can even stand up to the rigors of heavy traffic. It's renewable, and enduring, yet it can be as bold or whimsical or innovative as your most ambitious designs.
"DuPont™ Corian® is renowned for its exceptional versatility, reliability, elegance and almost limitless design possibilities. These properties give us an ease to work on it. From wall-cladding to column claddings, reception tables to pantry counters; Corian® helps us to add a unique value, character and sophistication to the design. We have also seen a new trend of using DuPont™ Corian® jalis for the break-out areas. Designers & Architects want to experiment with this material in feature walls which can be backlit creating dramatic impressions" ...says Mrs. Poonam Mahajan (Quality Network Fabricator of DuPont™ Corian®)
Curious to know more, please fill the form